NOW AVAILABLE
Health
Assess
2.0
Packed with the enhancements
you've been asking for.

In case our 12 interactive learning modules (which can actually replace a Health Assessment textbook) and 5 virtual simulations weren't groundbreaking enough, we're dialing it up a notch and bringing you some exciting enhancements now available in HealthAssess 2.0.

Learning module enhancements
+ Addition of end-of-module practice tests
+ Integration of sample EHR Tutor charts
+ Addition of content including:
Abuse / human trafficking
Gender identity for assessments
Types of relationships
Environments at home and work.





Virtual simulation module enhancements
+ Addition of single-body system Virtual Focused Assessments (8 simulations) on new body systems that include greater client diversity
+ Updated reporting to include greater detail
+ Content updates.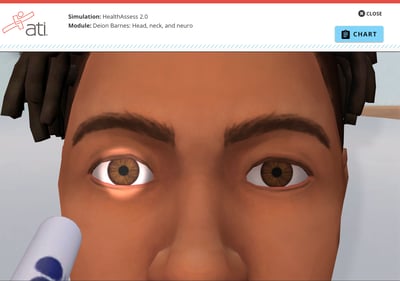 iPad compatibility
We're also excited to share that you may immediately begin using HealthAssess 2.0 with iPads on iOS 13 and later. Android support will arrive later this fall.

Integrate with ease.
Find ready-to-use educator and student resources for easy implementation in the ATI faculty portal under Resources > Products & Integration > HealthAssess.

+ Updated Educator Implementation Guide
+ Expert charts
+ Faculty / Student instructions
+ New lesson plans (coming soon)
+ Content outlines for learning modules and simulations (coming soon).
Join us live!
Join us for a live webinar where we'll share more about what's new in HealthAssess 2.0. Can't make it or looking for more trainings? Head to ATI Academy anytime and explore recordings, find quick lessons, and watch demonstrations of HealthAssess. (Access ATI Academy from your ATI Faculty Portal.)
Learning to use HealthAssess 2.0
Wednesday, Sept. 15
2 – 3 PM CT
Register >
Monday, Oct. 11
1 – 2 PM CT
Register >
Integrating HealthAssess
Monday, Oct. 11
3 – 4 PM CT
Register >


Pilot program educators said:

"It was definitely eye-opening for the students. They were very focused (LVNs and paramedics) on the tasks. It was a great test to see what they really knew."
"I do like the box that pops up after the introduction. That is great [how] it lets students know they are [going] in the right direction."
"The focused assessments fit in perfectly between the learning modules and the virtual clinicals in helping prep students."
"I love how it has EHRT right there."
"I really liked the ability to practice the expected findings in the new simulations."
"I like that the [test] questions are a feature."
"Would love to see more virtual scenarios."
---
Learn more about HealthAssess at atitesting.com/healthassess.