The use of telehealth has increased significantly with no signs of letting up in the near future. Telehealth will play an increasingly important role in how nurses provide care, and the emphasis on communication in these modules is a great way to introduce students to communicating properly to provide quality care.
Explore more in an article on the ATI Educator Blog::
THE 6 TYPES OF TELEHEALTH & THE NEW WAYS MEDICINE IS USING IT

What's new?
In this new module, students learn about:
+ Motivational interviewing techniques​
+ Professionalism using telehealth​
+ Telehealth best practices
​
Featuring 2 telehealth visits, students can now practice telehealth care centered around the management of:

+ Cardiovascular
+ Diabetes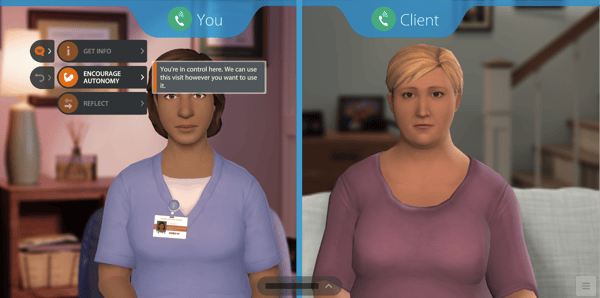 ---


Pilot program educators said:

"The way this virtual patient reacted to some of my responses was really valuable. ​We don't typically put them in these situations in clinicals, and then they see it ​later and are taken aback."​

"The interaction was amazing and realistic!"

"This was helpful because I don't think a lot of our students will get to ​experience a telehealth [visit]."
Trainings & demos
Join us for one of our upcoming live webinars where we'll share what's included in The Communicator 2.0's new Telehealth module. Explore our upcoming events calendar now.
Can't make it or looking for more trainings?
Explore other quick lessons and demonstrations of Nurse's Touch, The Communicator 2.0, in ATI Academy anytime. Access ATI Academy from your ATI Faculty Portal.

Integrate with ease
Explore new and updated educator resources for Nurse's Touch, The Communicator 2.0, such as ready-to-use lesson plans for class or clinical-replacement hours. Find them in your ATI Faculty Portal under Resources > Products & Integration > Nurse's Touch > The Communicator.
---
Learn more about simulations in Nurse's Touch, The Communicator 2.0, at atitesting.com/nursestouch.

​